The Great Call Center Myth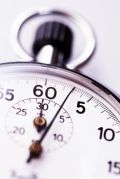 I'm late for mentioning it, but I came across a great post from Tom at QAQNA about the biggest call center myth. The myth is (paraphrased): in order to provide great customer service, customer service representatives have to be on the phone longer, resulting in increased call time.
I generally don't even advocate paying that much attention to average call times (or call handle times in some call centers). To me, the most important numbers are customer satisfaction numbers (with the overall experience and the particular representative). If those numbers are good, don't worry so much about call handle time. However, a lot of call centers do keep call handle time in mind and with good reason.
From what I understand about Tom's post and my own experience is that the agent's that are providing the best customer service through the use of soft skills (apologizing, being friendly, etc.) are usually the most talented. Since they are the most talented, they are also very good at doing the hard skills (fixing the problem, etc.). The two often go hand in hand (though not always). The best customer service representatives are usually the best in several areas.
Now for the part where I provide original thoughts.
I'm not sure about you, but in every case I can recall, the good experiences take a lot less time than the bad ones. If I call up a company, get connected quickly, the person helps me, answers my question, I can understand them, gets the problem fixed, etc., then the call gets done very quickly. 5 – 10 minutes, if that. Of course, some issues will take longer than others, but apologizing or being friendly won't make a meaningful difference for that.
When I have a problem and the customer service provided is not so good, the experience seems to take a lot longer. You find yourself arguing with the representative, repeating information, etc. All of this makes for a much longer and much more frustrating call. It may take a half hour at best and multiple hours at worse.
And aren't there better ways to cut call handle time? Eliminate stupid verification steps, train your representatives to get to the root of the problem, etc. More about that tomorrow.
I am glad to have assisted Tom in debunking the great call center myth. Now, when will it be on Mythbusters?