The One Question Survey
A company called Mailtrust (formerly Webmail.us) hosts a majority of my email. I've been using them for several months and have been quite happy. I found a recent survey they sent me fairly interesting and wanted to write about it for today.
On Monday, the company sent me an email with the subject "Mailtrust: 1-Question Survey". The text of the email was pretty simple and straight forward:
Hi -name-,

We are currently asking our customers to take a one-question survey so that we can rate their level of satisfaction with our company. If you have a few seconds, we would appreciate it if you would answer our one-question survey found by clicking the link below:

https://admin.mailtrust.com/include/netpromoter/email-survey.asp?id=#####&email=email

Thank you for your continued support

Pat Matthews
CEO, Mailtrust, LLC.
This is really dead simple, but also very effective. It is classic Net Promoter, which is extremely popular among a lot of companies (for good reason). I like how they included a box for any additional comments instead of choosing to do a longer survey. The actual survey, the one you saw once you clicked on the link, looked like the image below.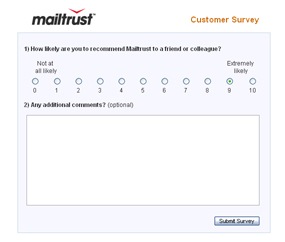 Like all surveys run by almost all companies, though, this survey has room for improvement:
1. Utilize the technology further. Mailtrust knows if I have HTML email or not and could easily do a form where I can do the rating right from the email. Making it more convenient will make customers happier and produce a higher response rate.
2. On the survey, show my email address. Customers may not feel like their comments are going into a blackhole (a common concern) if an email address was clearly shown under the comments box. I know the company has my email address because it is in the URL of the link I clicked on, but a lot of customers (especially non-technical ones) won't notice this or put the two together.
3. Offer some sort of award (or possibility of an award) for participating.
Inc. Magazine sends me regular surveys and when it sends surveys, it says I have a chance at winning an American Express Gift Card or a signed book or something whenever I participate. I actually won a book once, so I believe in the possibility of it actually happening. If Mailtrust gave away something, it would increase the response rate and encourage even more people to participate in the survey.
4. Include a support / help link.
In the email and/or on the actual survey, there should be a link to contact the company directly or at least an email address to contact support. The logo links to their homepage, which subsequently has a link to support, but that isn't direct enough.
Overall, this was a well done survey. It wins a lot of points for simplicity. The next step (one that perhaps Mailtrust can clue us in on) is how they will use the data and what they can do to increase their response rates (and of course, the ratings) next time around.