The Ringing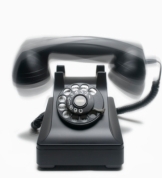 Everyone has called a company and gotten what I call "the ringing." It is when you call and the phone just seems to keep on ringing. No phone menu, no answering machine, just lots of ringing.
As a customer, this makes you rather nervous or frustrated. If something is going wrong, then you are obviously quite nervous. If you are just a potential customer or have a casual question, it will probably frustrate you.
Regardless of who you are, you aren't happy when you just get the ringing. Thoughts about the company's possible technical incompetence, lack of financial stability, or even continued existence probably pop into your head. A company like that certainly isn't one you want to buy from. A company like that certainly isn't one you want to continue doing business with.
As a company, you should work to avoid the ringing. Not just the actual ringing that is likely caused by a problem with your IVR, but all types of similar problems. Little things that can quickly frustrate a customer that are probably completely accidental. Things like:
"The ringing"
Getting disconnected during transfers
Getting disconnected at all (when the customer knows it isn't their fault)
Errors when a customer tries to do a live chat or submit a ticket online
Looping / repeating IVR menus
Little errors on your web site that make it impossible to navigate to a page or login
All of these are little things that drive a customer crazy. They may instantly turn the customer off. At the very least, they will cause the customer to think about other companies and re-evaluate their current deal with you.
The easiest way to prevent things like the ringing are to watch for them. Call your phone number to make sure it's working. Check the status of your web site. Have representatives browse your web site and call your company when they start their shift. 5 or 10 minutes and it could save you a lot of upset customers.
Then, if you do notice a problem: fix it. When you fix it, make sure it won't happen again. If it only happens once, the customer will probably forget about it. If they notice "the ringing" every time they call, chances are they won't be happy.
On this very same note, my sincere apologies about the downtime yesterday evening. There were some technical problems. I bet when you try to visit a customer service blog that is down that you don't think too highly of it! Well, we certainly dropped the ball and don't want Service Untitled to be down any more than you do.
What similar things to the ringing can you think of? How does your company deal with them?