The Telemarketer That Was Better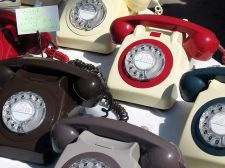 You should read this post written by Liz of Successful Blog. Because her son is about to graduate college, Liz has been getting a lot of calls about his student loans. Apparently, the telemarketers call and have no interest in Liz – just her son.
Well, recently one telemarketer named Maria did something better. Maria asked if Liz was was his mother. Maria asked the question with a genuine interest and caring. Liz was pleasantly surprised. She event listened to what Maria had to say and passed on the message to her son.
Liz's story about Maria shows how positively consumers can react to above average customer service. It is a sad, but known truth that customer service in general isn't that good. Sometimes all it takes is to be a bit better than everyone else. And a lot of the times, that doesn't take much at all.
You should try to train your customer service representatives to be like Maria. They should take an interest in the person they're talking to. The first person is often the gatekeeper so being nice and taking an interest is often beneficial. If your business is like Maria's, chances are you deal with people that aren't the direct customer a lot. You want to be nice to them.
Having friendly representatives and having operating procedures that encourage representatives to be friendly is a great step in the right direction. Again, great customer service is more a matter of being nice than having some sort of magical powers.
Photo courtesy of djbrady.