There is no endgame in customer service.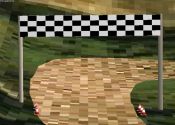 Every now and then I find myself talking to an executive who mentions an endgame, finish line, or a similar sports metaphor that talks about an end of customer service improvement or an overall goal that can be reached.
When I hear this, I have to interrupt and ask a question. My interrupting has nothing to do with the sports metaphors (I don't use them, but I promise I have nothing against those who do), but instead my interrupting is the result of someone talking about an endgame in customer service.
The fact is that there is no finish line, endgame, or magic goal that can be achieved when it comes to customer service. The best customer service companies know this already. The best companies are constantly improving. For them, 95% customer satisfaction is not good enough.
And when I say 95% is not good enough, that does not mean the actual number will improve significantly (chances are you'll never reach 100% satisfaction), but the service delivered can certainly improve. I was talking to a CEO yesterday who ran a company that had a satisfaction rating in the very high 90's – and I told him that the rating is about as good as it's going to get. However, that doesn't mean that they're done with customer service (they knew they weren't); there is still work to do. If Ritz Carlton's customer satisfaction rating is in the high 90's, it may be hard to get that number up, but I do know that there are ways they can improve. Service can be more consistent, it can be faster, it can be more efficient. It can always be better.
I don't know of one company in the world that has perfect customer service across all divisions, locations, and employees. I don't think such a company exists. I don't think such a company can exist. However, I do think that companies can eventually (though not easily) get very close to perfection and they should always be working towards that goal.
I'll never forget the day I called Nordstrom to request an interview and was politely told that the company doesn't give interviews about their customer service because they feel there is still a lot of work to do. That type of attitude (while perhaps a bit extreme) is the type of attitude that every company should have. It's okay to know you're good, or even to know you're great, but it's not okay to think you're perfect.
The attitude and culture that you should try to instill should be something along the lines of "we're very good at what we do, but we can always get better."

Technorati Tags: Customer Satisfaction, Improvement, Customer Service