Tour of Headsets.com's Offices
When I was in San Francisco for Customer Service is the New Marketing, I took some time to meet some folks from Headsets.com and get a tour of their office. My tour guide was Leslie, who currently runs a customer service team at the company and has also held roles related to hiring. Since it was a Saturday (the only open day in my schedule), the office wasn't open, but there were still people there and interesting sights to be seen.
In addition to some of the thumbnails below, you can view the photos of the tour (about 20 or so) here. There are some ridiculous cubicles and photos (like the middle picture below) as well as some cool things (like their "Wall of Customer Love on the left).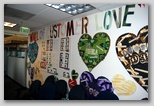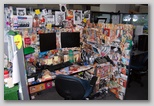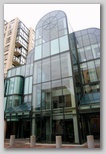 The Headsets.com offices: more photos (along with captions) here.