Trying to Get Office Hours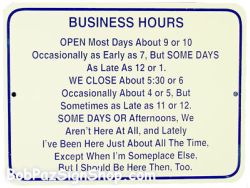 Whenever I call a company and get a menu explaining the company's hours of operations, I sigh slightly and begin to wish that a human had answered the phone. Yesterday, though, I was really hoping for that recording.
I needed to find out the hours of operation of a division that is part of a bigger business that I knew had "limited" hours of operation at best (I later found out they were open 9 AM to 4 PM on Monday – Thursday and 10 AM – 1 PM on Friday).
The only reason for me dealing with this business was that I needed something from their store and had to have it fairly quickly in order to complete a project I had been working on. I went on their web site, found a few references to this division, and even one to the hours of operation. The helpful answer? Call to get the hours of operation.
I call the division. It rings for a minute or two. Then, I get the message that says the user's mailbox is full. It doesn't mention the division's name and definitely not their hours of operation. I was out of luck. I call the company's general information number and go through a series of menus. The person tells me one thing. While I was on the phone, I had opened a live chat and asked that representative the same question. I got a different answer. Needless to say, I wasn't overly confident in either of the answers by this point.
What I eventually ended up doing was picking a time that was in between both of the answers I got. When I went, the division was open and I was able to purchase what I needed. I did notice some interesting, though; the "hours of operation" sign on the store's window had yet another set of hours listed.
We can learn a few things from this (at the cost of my aggravation, but surely worth it):
Have consistent answers available to all employees and in all locations. As a customer, it's frustrating to keep getting (and seeing) different answers and different information.
When you have such answers available and written down, publish them. Store hours are not trade secrets, publish them! All information that is available internally that is not a big secret should be published publicly. It does not make sense to make simple information like store hours available to employees just so they can relay it to customers who ask.
Test your phone number regularly and ensure that customers are able to call and get the necessary information without running into technical errors.
Technorati Tags: Customer Service, Customer Service Experience, Phone Menus, Schedules