Two Simple Ideas to Solve the Knowledge Share Problem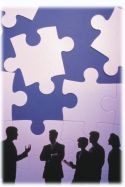 I was talking to an executive at a large, rapid growth company (it isn't an oxymoron believe it or not) today. One of the company's key challenges is dealing with the problems associated with "knowledge sharing" as they grow.
When the company was small, everyone knew what the other was working on and the solutions they were tacking. There were end of shift meetings and the entire company could fit in a small conference room. Now that the company is 250 times bigger, they have trouble doing that now.
This is an issue that seems to be common among growing companies. Once employees pass the 100 or 200 employee mark, it becomes difficult to share best practices and solutions. Those good ideas that used to be easy to communicate among a small group are now impossible to effectively communication across an international company.
There are several things companies and employees within them can do, though. I shared these two ideas with the particular executive:
Use internal blogs.
Well run, internal blogs (more about them here) are a great way to keep employees up-to-date about what is going on from shift to shift. Employees in general or teams can post some things they learned throughout the shift or an explanation about how to deal with an especially challenging problem they saw. If this is done every day or a couple of times a day by different people and is easily and effectively searchable, it can serve as a valuable resource to all employees.
Use the "coolideas" email idea.
I've never written about the cool ideas email idea because I just remembered it happening today. I worked with a startup that had a simple email address (something like coolideas@company.com) that all employees, ranging from customer service representatives to senior engineers, were encouraged to email their ideas, problems to tough solutions, and best practices to this email address. There were signs all over encouraging employees to do so and they did. The email had a designated keeper / organizer (the office manager did it) who would talk to employees if further explanations were needed and who added the ideas to the company's internal wiki. The idea worked really well and the company benefited tremendously.
The executive thought both ideas (especially the coolideas one) were good ideas. The most important part of grasping the idea of knowledge sharing and how to do it is understanding the need for effective tools.
Effective tools can make or break the process, regardless of how motivated the employees are share to the ideas. The tools need to be easy and fast use to use (like an email address). If it's easy enough for employees to share their best practices and ideas, they are a lot more likely to do so.