Vet's Office Fun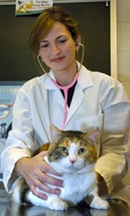 Like many Americans, I own a pet. I'm a proud dog owner and do a lot for my dog. She was limping a bit over the past week so I made an appointment to take her to the vet. I called on Saturday and got an appointment for Monday at 11 AM. I was fairly impressed that I could get an appointment with relatively short notice. I got a confirmation call later that day and was all set to take her into the vet this morning.
I took her into the vet and waited in the waiting room. For some reason, whenever I go to this vet, the front is always hectic. Unlike in most doctor's offices, the people at the front desk of the vet aren't glued to their desk. Because they aren't glued, they are often no where to be found. I had to wait for a few minutes before one of them was around to check me in. Right after I was checked in, my dog and I were shown to an examination room.
The examination room was interesting. Firstly, there were no chairs whatsoever. The only chair like piece of furniture was a small bench in the corner. This small bench was not intended for adults, because almost no adult could comfortably sit on it. I could barely sit on it without falling off and I am fairly skinny.
Once the vet came in, he was friendly and helpful. They took my dog out to walk her around. They didn't really tell me what was going on until I asked, but they were friendly about it.
The vet came back with my dog and spoke to me for a while and then they left again to do blood work. I assumed it would only take a few minutes, but when he brought the dog back and left again, more than 10 minutes passed. He came in and said it would be another 7 minutes. It ended up taking about 20 minutes or so, which is longer than I expected.
The vet was an overall positive experience. They could have done these things, though:
Have a more consistent check in procedure.
Have a more comfortable place for humans to sit in the examination room.
Keep customers in the loop about what's going on and how long things will take.
I'm still very happy with my vet and I am sure there are vets that are much worse. As long as my dog ends up feeling that, that's what matters.