Warren Buffet Knows Customer Service
Warren Buffet is a well known businessman and philanthropist. I admit to not following him that closely, but from what I've read, everyone that meets him seems to like him a lot and the business world seems to have a lot of respect for him. From what I know about Buffet, I do have a lot of respect for him and what he's done.
I recently saw this Warren Buffet quote and instantly fell in love with it:
"It takes 20 years to build a reputation and five minutes to ruin it. If you think about that, you'll do things differently. – Warren Buffet"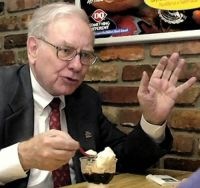 It is really a perfect quote to sum up the role of and the way a company should look at a customer service department in an organization. If you really do look at your company's reputation this way, giving that $30 refund to the customer won't be such a big deal.
A company's reputation is critical to its success. Today, when anyone can start a blog or cause a stir about a negative experience with a particular company, it's even more important. If words gets out about one negative experience (out of tens of thousands annual customer service experiences), it can taint an organization's reputation for a long time.
When you Google "aol customer service," the page contains lots of links to articles and videos about negative customer service experiences with AOL, including Vincent Ferrari's well publicized cancellation issue that took place in June 2006. Google "Lexus customer service" and there are links to mostly positive articles and web sites.
Warren Buffet's quote is very true. A reputation is not only priceless, but overreaching to all parts of an organization. If you look at it as such, you'll really change your overall way of thinking and of doing things.
Buffet's quote reminds me of a similar quote by Jeffrey Gitomer (well known sales guru) that I used in a presentation I did:
"Biggest question: Isn't it really 'customer helping' rather than customer service? And wouldn't you deliver better service if you thought of it that way? – Jeffrey Gitomer"
It's all about perspective. You can look at customer service as a cost center or as a profit center. You can consider employees an asset or you can consider them a hassle. If you can put customer service in the right perspective, it has the potential to work out very well for your company.