We'll Buy You Lunch If …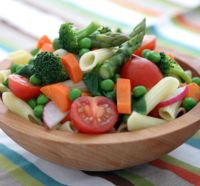 I was reading about an interesting policy at a fairly progressive technology company based in a major city. They have about 400 employees or so and an interesting policy when it comes to buying their employees lunch. Quite simply, their policy is "we'll buy you lunch if you eat with someone you've never gone to lunch with before."
Since they are in a major city and are close to a whole bunch of places to eat, they encourage employees to go out and eat lunch. More importantly, though, they encourage employees to take another employees.
This policy (program is a better phrase, I think) is interesting because it introduces employees to each other. In a company with about 400 employees, an individual employee probably doesn't know every other employee. This policy / program makes for a nice way to get to know other employees. You can go out to lunch with your friends for the first week or two, but eventually, if you want free lunches, you'll have to start going out to lunch with people you don't know.
The company makes the system easy by having a little page on their internal wiki where people can list what days they want to go out to lunch and if they need someone to go to lunch with. Employees can arrange it themselves or they can let the person who oversees the program (it is not their primary job, but something they do for part of their day) match them up. The company keeps track of who you've gone out to lunch with and will re-imburse employees for lunch (I think they pay like $20 per person, but you can obviously change this depending on what you're comfortable with). It isn't too complicated (it is for the most part on the honor system) and employees like the program.
This program is very much like the old time trick of putting a pizza or food spread next to the new guy's desk. Doing so encourages other employees to go over, introduce themselves casually, and get to know their new co-worker. This works really well in smaller companies, but as companies grow, this becomes slightly more complicated. You can still do it for each department or team, but for the entire company, it's hard to put a pizza next to the new guy's desk and assume everyone will know where it is.
This program is a great culture and team builder. When employees know the people they're working with, chances are they are going to be more productive and like their jobs more.

Technorati Tags: Customer Service, Customer Service, Customer Service Experience, Customer Service Representative, Hiring, Little Things, Team Building, Startups