What happened to customer service at Sears?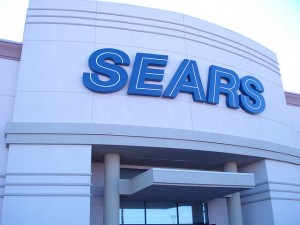 The entire history of Sears is way beyond the scope of today's blog post, but a short summary of Sears has its roots dating back to 1886 when the founder, Robert Sears began selling watches in Chicago.  Thirty years later arose the brands of Kenmore and Craftsman, and during the organization's  billion dollar growth came Allstate, Caldwell Banker, and Dean Witter. Such was the tradition of Sears as it was well known as the General Store and a provider of everything one needed. When Sears introduced their catalog business, retail sales was revolutionized. Color photos of merchandise delighted shoppers browsing the hundreds of pages of shoes, women's lingerie, washing machines, tools, and even children's matching outfits; Sears was the ultimate shopping experience for every member of the family while they sat comfortably at home.
So what has happened? According to online surveys, over 80 percent of customers now give Sears poor customer service grades citing reasons of inept management, unreliable products, poor customer service, and a profound lack of employee training. Of course, Home Depot, Best Buy, Walmart, and the Internet giant Amazon have all cut into the general store attitude of Sears,  however there will always be shoppers who prefer brick and mortar establishments and enjoy the experience of the places our grandparents and parents loved to shop. Sadly one of the problems is that Kenmore and Craftsman, although still strong in the Sears' culture, are now outsourced and sadly that leads to repair problems; so much so that Sears is now a bankruptcy target with a loss of $3.1 billion in 2012.
Can Sears be saved? Probably the best suggestion to Sears would be to bring back the culture of the last century. Customer service begins with employees who want to be working and doing their best. My last experience in Sears in the upscale Palm Beach Gardens Mall was in search of a new washer and dryer when I moved into my new home. Sadly there was an insufficient staff to help anyone, and the salespeople had limited knowledge of the merchandise. According to Measuredup.com, complaints about repairs all through the country are consistently poor for Sears' appliances, lawnmowers, and even tractors. The cost of repairs seem even more contentious. Consumers driven by finding the lowest prices will ultimately buy online; stores like Sears therefore have to concentrate on their showrooms and presenting superior products, "wow" customer service, and follow-up service and repairs to build customer loyalty and referrals.
Sears went online in 1997, but their entire culture is essentially broken. It's been suggested that Sears reinvent themselves to focus on men. After all Craftsman tools have always been a male Christmas present staple; for all those weekend home chores. Experts say get rid of the women's clothes and jewelry and stock up on Lands End merchandise which appeals to men. Invest in some expert staff training, raise salaries to attract the best sales personnel, concentrate on the company's culture, and rebuild an organization that once dazzled shoppers across the United States.
Photo courtesy of justj0000lie