The video-sharing web site Vimeo is an extremely well designed web site. Just from looking at and exploring the web site, you can tell the designers spent a lot of time thinking about how it would work and how users would interact with it. As you'd expect from such a web site, Vimeo's help section is also extremely well designed. It's well thought out, personable, and effective.
So, let's look at in detail.
This is screenshot number one (I've added the numbers in red to make it easy to reference). You can click on it to see a larger version and of course you can visit the actual help site here. The first half of Vimeo's help page does quite a few things right:
1) An informal heading (Help is on the way!) is clearly visible and is consistent with the page's and site's overall tone. They aren't a particularly formal company and the help page reflects that. With that in mind, if your company is particularly formal, your help page should reflect that as well. Your help page should be consistent with the rest of your brand and web site.
2) The "Vimeo FAQs" neatly describes and presents links to a few important help areas: the basics, compression FAQs, general FAQs, etc. I'm assuming Vimeo has an idea about the most commonly asked questions and decided to include them on the Vimeo FAQs section right at the top of the page.
3) Introducing customer support people (or people that serve a similar role – Vimeo calls them Community Directors) with their picture and contact information is a clever idea. Bigger companies could take this approach and modify it slightly or choose to go a similar route. You might want to have the profiles of various staff members appear randomly or just choose to list the head of customer service. The first listed contact, Dalas Verdugo, has his email listed as "help@vimeo.com," which is probably more effective than having his personal email listed there. Both Dalas and Blake (his picture and bio is outside of the screenshot) have friendly bios about them as well as their contact information listed on the left hand side (email and AIM addresses).
4) Since Vimeo is a video company, they decided to use video tutorials. Consistent with the brand, the tutorials are informal, but informative. The titles explain what the videos are about, so no description is really necessary.
5) Using what I think is a Vimeo feature, users can easily scroll through different help videos and choose one they'd like to watch. If you click play, the respective tutorial plays right in the box.
Screenshot number two shows the bottom part of the page. Again, I've added numbers to make it easy to reference and you can click the image to see a larger version.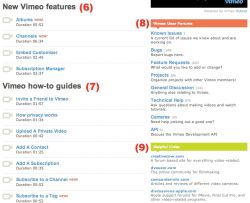 6 and 7) Vimeo has decided to explain and highlight new features using video tutorials as well as provide additional guides outside of the getting started category. The extra videos help to make the section more comprehensive. Bigger companies or sections looking to get more in depth will probably have to have more videos or more guides, but that is easy enough to do. A search box could be added at the top of the page to make navigating larger help databases easier as well.
8. The company has a community forum where users can post suggestions, report bugs, talk about cameras, discuss projects, etc. The forum and its categories are linked to from the help page. (Linking to community forums on help pages is common, but linking to individual categories are a nice touch that will probably engage more users.)
9) And finally, the company links to some helpful resources ranging from help documentation from other companies to programs that users can use to get the most out of their Vimeo and video experience.
Vimeo's help section isn't complicated at all; I would say that most competent designers could come up with something similar in a fairly short amount of time. However, Vimeo thought out of the box and beyond the normal template for boring help pages and their hard work paid off. I'm sure other companies have done similar things, but I think Vimeo did a particularly good job. Their help page is clean, efficient, and effective. And if it's helping users (which I think it is), then it's definitely doing its job.
What other companies or web sites have great help pages or help sections?
Edit: For more, check out this interview with Dalas Verdugo, Community Director at Vimeo.