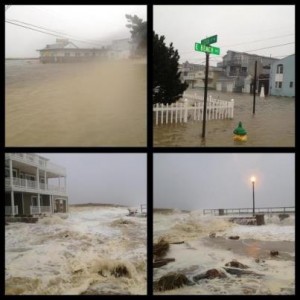 With over two million customers without power because of Hurricane Sandy, is it within the realm of possibilities that we can expect customer service to even scratch the surface of what we need or what we want? The first priorities must be with emergency services; getting the hospitals back to their work of saving people, and getting emergency public service personnel back to their desks so they may begin the enormous task of helping us to put our lives back together again.
Speaking from a South Florida resident's personal experience of having "hunkered down" for a hurricane or two, by no means should customer service be  overlooked or ignored. Of course, it's not going to be the "wow" experience as far as comfort and convenience, but as neighborhood businesses reach out to help their communities, they are not only providing a service, they are building goodwill which will be remembered long after the boardwalks are rebuilt and our children are once again frolicking in the sand of Seaside Heights.
Even before Hurricane Sandy blew into town, retail stores were staying open late with emergency supplies such as batteries, water, and flashlights for last minute shoppers.  Maybe the lines were long, but few of us complained. We were just relieved the stores stayed open so we could have some light. These are the same people who left to go home right before the cancellation of  public transit. These were the same people who also have families and responsibilities of their own, but stayed on to help.
And then during the storm, could customer service ever be better or more efficient when 250 patients in serious medical need in a New York hospital had to be transferred because of a power outage? Ambulances from out of state miraculously appeared every four minutes as medical personnel brought patients out one by one to be transferred to another hospital. A surgical nurse sat on a gurney administering oxygen to a newborn while critical care patients were shielded by physicians, nurses, and support personnel – all to save lives.
But now it's after the storm, and if it were only that easy to send 25 Jersey Power & Light Company trucks out to Seaside Heights, New Jersey to replace transformers and climb up poles to do some rewiring, life after Hurricane Sandy wouldn't be looking so ominous. Now we have the help of businesses who are coming out to volunteer to help their neighbors cut tree limbs off of their homes, bring in fresh water, or help to find a child's dog who wandered off during the confusion of the storm. It's a time for businesses like Home Depot to offer the use of wet vacs and building supplies to help families get their homes back together again. Electricians, plumbers, and heavy equipment operators who reach out to their neighbors who offer discounts and also volunteer in their communities will far exceed the expectations of most people, but definitely be remembered in better times when neighbor Brad is ready to build an addition to his home or Traci is ready to remodel her kitchen.
Disasters have a long reputation of gouging people when they are at their neediest, and laws do exist which punish offenders, but at the end of the day it's the community that comes together and helps to rebuild. For everyone involved in the devastation of Hurricane Sandy, we send our prayers and hope you continue to stay safe and far away from harm.