Avoid costly mistakes by creating a better call center for customers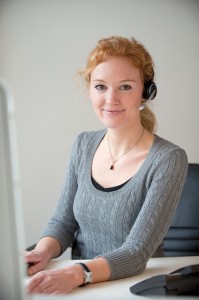 Call centers can range from one or two people in a small office to thousands of customer service representatives in huge office complexes, but a customer's view is set by their first impression or that first phone call needed for help. Whereas customers don't ever want to feel that once their purchase was made, the organization no longer cares about them and is just out there fishing for new clients, one of the prime frustrations often deals with call centers and their notorious poor service ranging from finding the right representative, hanging on hold for an extended amount of time, repeating the problem to representative after representative, or to never being able to reach an authorized person capable of making a decision to rectify a problem.
The most lucrative businesses cultivate a base of loyal customers who typically campaign on an organization's behalf as to the reliability and excellence of the brand. With people spending an average of five hours a week on social media with the average of 150 friends on Facebook and 300 Twitter followers, negative feedback on a business can affect an average sized company's profit margin. With consumers very willing to switch brands nowadays for better service, and even if it means spending more money, statistics show that 73 percent of consumers will eagerly make the change.
So what can a company do to improve the quality of their call centers? Here are some suggestions:
Don't outsource your company service outside of the United States. One major turnoff and a significant reason why customers will not recommend an organization to their friends, relatives, or co-workers is the inability with poor language communication skills.
Customers want their problems solved in a single call if possible by one customer service representative who speaks clearly, is knowledgeable, polite, and helpful.
It is important to have the technology to access a customer's records quickly and not have a customer "on hold" for more than a few minutes.
When a customer calls in for help to a call center, navigating the menu and a path to a human representative should be simple.
Customer service training should provide representatives with the knowledge to solve most problems.  And just as important, a customer should also be offered an alternative to be given a credit if they are not happy with the outcome.
A supervisor should always be available at a call center if a problem has not been resolved.
An antiquated way of thinking once perceived service and call centers as costs, but the loss of a customer is much more expensive. With repeat customers come recommendations and more customers. It's not much different than cultivating a garden. As the plants grow and spread, the garden gets bigger and bigger yielding more vegetables. Never cut back on training, and continue to be an inspiration for those employees who make a difference in an organization's campaign on behalf of their brand. Why not call in one day and pretend to be a customer? In fact, call in with a problem that is not in the usual text training manual and see how the unusual issue is handled; it promises to provide an excellent insight into your customer's world.