Book Review: Delivering and Measuring Customer Service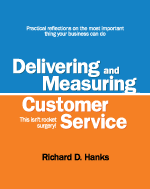 Another book I recently finished reading was Delivering and Measuring Customer Service by Richard D. Hanks. The book focuses on two key aspects of customer service: actually delivering it and then getting real-time feedback that you can use to improve upon it. The book is relatively sparse on details about the delivering aspect and focuses much more intently on the importance of and the best practices for measuring customer service.
Author Richard Hanks told me he decided to write the book because he was frustrated with a lack of hands on, practical books that addressed the topic of how to measure customer service. There were plenty of long, relatively boring "academic" type books on the subject, but he noticed a serious lack of "here's how you do it" books. Thinking Delivering and Measuring Customer Service could help fill that gap, Richard worked on writing down and summarizing what he learned from his work at Marriott Hotels, PepsiCo, and most recently, his survey company Mindshare. His perspective is a unique one that makes for an informative book that is also an interesting read.
Delivering and Measuring Customer Service talks a lot about the importance of real time feedback and subsequently, the importance of mastering "the boring, everyday." As Richard explained to me, if you run a hotel that's located in an exquisite location, provides great customer service, and has wonderful food, you'd think your customers are going to be pretty happy. They should be, but if you don't master the "boring, everyday" things like having clean bathrooms or ensuring the light bulbs in the room work after each guess, customers are going to be frustrated. If the bathroom in the room is dirty, the customer isn't going to leave happy, no matter how good the rest of the experience is.
The actual book, which is about 200 pages of pretty easy reading, is divided into seven primary sections: General Overview, Cultural Catalysts of Service, Gathering Customer Experience Feedback, Analyzing the Results, Using Customer Feedback to Improve, Customer Service Recovery and Follow-up, and finally, Tips and Tricks. Each section contains a few sub-sections that delve into specific areas. They're generally well presented, well organized, and informative.
Perhaps most importantly for this type of book, Delivering and Measuring Customer Service gives plenty of good tips that managers can act on right away. I read the book with a highlighter in hand and found myself highlighting something that I thought was interesting or insightful once every few pages. Like most of customer service, a lot of the advice is common sense, but a vast majority of customer service managers will be able to get something useful from this book, particularly with the book's focus on measuring customer service. Very few customer service books spend so much time on the importance of and how to measure customer service.
According to Richard, great customer service and at the very least, mastery of the "boring" stuff stems from the repetition of consistency and dependability. To be a great customer service organization, you need to be able to provide great service all the time. Customers then start to expect great customer service and a standard is created. The ability to keep up with that standard is what sets the mediocre companies apart from the exceptional companies.
Bottomline: Delivering and Measuring Customer Service is a great book for those interested in the subject the name implies. It's an easy and entertaining ready that is full of useful advice, guides, and information that customer service or business managers can take back to their teams and start acting on right away.
Pros: Easy to read with clever cartoons scattered throughout book, more than enough useful insight and advice to justify the price and time
Cons: The book tends to only touch (as opposed to explain in detail) many areas and also happens to jumps around. The lack of detail is both expected and acceptable given the book's broad subject area and the jumping around isn't noticeable or important to those reading the book for its content, as opposed to its literary merit (which is how most business books should be read).
Interested? You can buy the book on Amazon.com for about $20.