Customer service agents are also sales people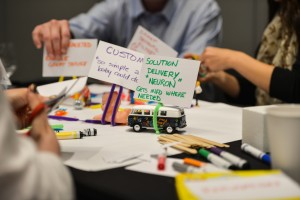 Although a customer service agent might be overheard saying they prefer to be in the background when it comes to sales positions, the talents of customer service representatives also take a paramount position in successful sales and marketing. The leadership role, as well as the emotional tone and empathy a customer service agent can impart upon a customer, is what can make a  lasting impression that may either result in the consumer moving on to the next company and competition or singing a company's praises. Agents who have the enthusiasm to work side-by-side with clients to solve problems or at the very least strive to create the positive feeling of problem solving can collectively help bring about an emotional attachment that reflects a positive experience and future customer loyalty.
So how does a customer service representative who is hesitant about selling be helped to feel comfortable? Ironically service agents already have an edge in sales because they find it easy to speak with clients and customers. Their proficient people skills are able to open up a constructive dialogue – sometimes starting off a bit emotional if a customer is upset, but a customer service professional will mete out the proper proportions of counsel, empathy, clarification, and support. And isn't that what a customer needs? In many cases isn't it the salesperson who asks the right questions to help a customer make the right decisions as to the product or service that she might need?
Sales people should not want to force a customer to buy a product they don't need, which fits perfectly into the world of the customer service representative who strives to make the products and services relevant. The hardest part however centers around closing the deal, so for those who are scared of selling, knowing the product well, having the best training and being able to navigate customer service skills each agent has honed through experience can bring success and of course profits.
And for those organizations who have already spotted the best and the brightest, be sure to continue their sales training while honing their skills on the customer understanding of products and services because once a customer is convinced they have made a positive connection with a sales person, the deal is on the way to being closed. There is no better way to build a successful business than by hiring, training, nurturing, and rewarding the best employees a business can hire; after all they are the reflection of you.