Duplicate the Store Experience Online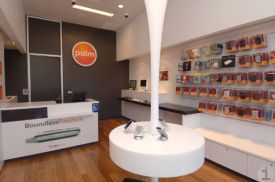 An interesting challenge that someone mentioned at the conference was the issue of duplicating their store experience online. The company, which was historically a brick and mortar type retailed, had recently invested a lot in an online presence. Their goal was not only to extend their store brand and give their existing customers a different way to shop, but also to attract new customers. However, the company was concerned about alienating old customers and perhaps most importantly, living up to their brand quality of superior customer service? The company's fundamental concern was making sure their online experience was as good as (if not better than) the in-store experience.
First off, what a great question. Here are my suggestions to make sure that the store experience and the online experience are (at least) of equal quality:
Keep the visuals similar.
It is important to keep the visual aspects of both the web site and the store similar. If your stores use deep colors with a non-cluttered design, make your web site reflect that. If your stores are known for light pastel colors and sparse design, make sure your web site isn't cluttered and uses similar colors. You don't want the two to be exact clones, but you do want there to be very noticeable similarities. Make sure the product pictures look similar, feature similar products, etc. — the idea is to keep things consistent.
Keep the tone similar.
If your stores have a laid back feel and the signs on the wall and near the register are witty, make sure you web site reflects that. If your store is very formal and very reserved (which is fine — it all depends on your customers), then your web site should be as well. The way your staff responds via email or via live chat should also be consistent. An example I think of is Timbuk2 (the bag company). They are a great company that is very laid back. Their brand is huge to their company, so I would be very surprised if the tone in their retail store was not similar to the clearly evident tone of their web site.
Use the same type of people.
Along the lines of the above point — if you're a surfer dude company, don't put customer service representatives that are very formal and reserved behind your helpdesk on the web site. The people who work for the Internet division of your company should be the exact same type of people you would put in your retail store. I'm not sure if it is the case, but shouldn't the people that work for Starbucks.com be as knowledgeable about coffee as those who work in the store? If they aren't, there is a problem that should be addressed.
The biggest one is probably using the same people. If you have the same sort of people working online and at the store, there will be a lot of similarities almost by osmosis. Be sure to ask your longtime customers what they think and for their suggestions. You obviously want to empower and listen to those people. If you don't, you might make some bad decisions that end up hurting, instead of helping, your brand.