How to help call center representatives improve customer service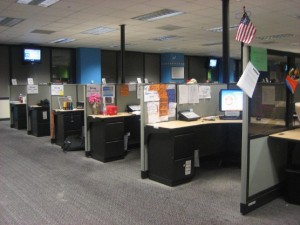 Centralized call centers receive and transmit an enormous volume of telephone requests daily, with the purpose of collecting and handling information, ranging from product inquiries, questions about transactions, and customer service. Although emails and social media networks provide more outlets for complaints regarding a particular organization or service, statistics show calling is still the most popular method of communication when a customer or client has a problem.
Handling complaint calls successfully from customers, require customer service representatives to recognize the problem and respond to it in a satisfying and efficient manner. Although the theory of complaining is universal and understood by all of us since our own "pre-toddler" days, the different presentations of "unhappiness" with a product or service often manifests itself in different ways.
For instance, some customers call up and preface their conversation with words like, "I don't like to complain," or "I really like  (company name inserted here) but this happened (identified the problem in a cursory manner), and I wanted to bring your attention to it". Whereas a customer service representative may not have picked up that the consumer is having an issue, it is therefore imperative that front line personnel are trained and taught to be able to recognize a complaint, respond to the problem, and thank the customer for bringing the company's attention to the particular issue.
A glimpse of more statistics reveal 95% of customers will give an organization a second chance if the problem is resolved, and 70% of customers will continue their business relationship with a particular organization if the resolution is in their favor.
So who are the most successful customer service representatives and how is that achieved? These are the men and women who can think on their feet after, and only after, having been provided with the best education and training in the company's culture, as well as with their products and services. When someone calls, the best representatives can assess through customer interaction whether the person is meek, aggressive, or just an ornery character trying to get something they truly don't deserve and a person no one will ever make happy. Of course, in those situations, customer representatives still must maintain the ultimate in professionalism while making every attempt to be patient and objective.
Customer service representatives – either at  the front of the call center or in a specialized section of the company, need to be able to provide solutions and have the authority to do so. They are friendly, non-confrontational, and patient. Although not every customer is always right, their information shouldn't be discounted, since they might be giving a company some insight into future problems and what should be avoided. An important aspect to efficient service is therefore the ability to manage customers and avoid unpleasant experiences. We lose customers when expectations and solutions don't jive.
Good business sense dictates we recognize the complex problems, and give the customer the  opportunity to suggest how he would handle the problem. You never know; our customers often help us find new solutions and help to pave the way to success.