More on Auto Response Emails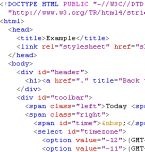 Quite a while ago (nearly a year!), I wrote about auto response emails and how useful they can be. The examples I gave are still quite relevant, but I decided to add a bit to that post based on some good (and bad) auto responses I have received over the last month or so.
Use formatting to your advantage.
I have also written about HTML and plain text emails before. Since writing that post, I have switched over to HTML email for all of my emails and some of the emails are quite a bit better looking. Assuming you have the capability to provide both plain text and HTML emails: make your HTML version nice.
Be sure to use font size, color, layout, etc. to your advantage. Make the important information that your customers always ask about (order totals, order numbers, when something is expected to arrive) stand out. In a recent email I got from a company, they listed my confirmation number in big blue text and then in bold a line or two below. It was impossible to miss.
Simple, but still visually appealing.
It is possible to design something that is simple and visually appealing. If you are using HTML emails, make sure that your emails aren't that complicated or fancy. They should have a logo, nice colors, etc., but there is no need to go all out. You want it to look nice, but not be too elaborate where it gets to the point that it won't work on certain computers, takes too long to load, and/or distracts the reader from the actual information.
Consider including a few FAQs.
In the same email as mentioned above, the company tried to answer some frequent questions for me right in the email. They told me why my order hasn't been shipped yet, when it was expected to arrive, how I can make changes, and how I can cancel my order. The FAQs are clear and concise and likely answer a lot of customers' questions before they even go to the FAQ site.
Be intelligent.
In one email I got from a company, they listed the speed of the various shipping options. They know which shipping option I picked, so they should only provide me with that information. Be intelligent about the information you're providing. The more relevant the information to the reader, the better.
Be friendly,
While how friendly you are depends on your company culture (and other factors discussed here), every email from your company should at least be friendly and courteous. If you want to sign emails as "Your friends" or "Your buddies" at XYZ Company, then you need to think seriously if that is appropriate for your company.