Never stop training.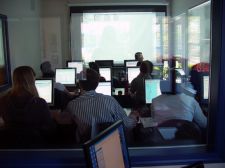 Companies that provide decent customer service train their employees once they're hired. They use a mix of formal and informal training to train their employees to provide quality service.
The best customer service companies, however, continue to train employees beyond their initial training. They are constantly working with employees and ensuring that they are kept up-to-date and continually improving.
Training employees constantly not only keeps them on their toes, but allows them to learn new stills. Companies that provide complicated products and services should definitely be training their employees to keep up with the latest trends, be aware of how to use the updated versions of the products, and so on and so forth. You can't teach new employees everything in the first month and not everything that needs to be known happens in the first month, so it makes consistent and constant training a necessity.
The training should be formalized to some degree, otherwise it'll be pushed to the wayside. Consider making it a requirement that employees get "re-certified" once each year. To go through the certification process, an employee might have to participate in a few hour class, work with a supervisor in a mentor situation for a few days, and pass a test. The process can vary from company-to-company and even division-to-division and still be effective. The overall and most important goal is to have a formal process that employees must go through every so often.
And perhaps most importantly: don't leave customer service out of the yearly training or certification process. Employees should be evaluated when they participate in both real and mock calls, they should do some email support, and they should listen to some of their own and others' calls to get an idea about what they're doing right and what they're doing wrong. Feedback should be provided in a constructive way (it's training, not a review).
Once you make constant training a focus of your company and actually follow through on it, you should begin to notice the results almost immediately. Employees will be more knowledge, customers will be happier, and the business will be better off.