Non-Verbal Communication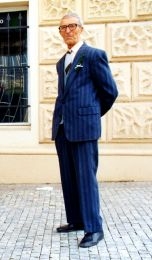 Over the weekend, I went to a restaurant. Like in many restaurants, the manager came by and asked how everything was. I recently wrote about the action of asking how everything is and what the answer should be, but I left out a key element: how to ask.
The how to ask seems pretty simple, right? Just say "how is everything so far?" or "are you enjoying your experience?" However, it is quite a bit more involved than that. The asking requires more thought and effort than just asking.
This particular manager's posture was not good. He was standing up straight, but his non-verbal actions did not suggest that he cared. He almost walked right by my table before he asked, his hand was on the edge of the table (because the majority of his body was already past it), and he wasn't looking straight at me. The manager's non-verbal communications did not suggest that he cared or was paying much attention.
Various studies show that a vast majority (like 90%) of communication is non-verbal. This manager's non-verbal communications did not suggest that he cared. They suggested he was in a rush and had other things to do.
However, you can be better. Your non-verbal communication can be far better that the manager's I saw.
Stand in the middle of the table.
I was sitting in a booth, which on one side has a wall and the other side is the walk way. He was on the very edge of the table in the walk way. He should have been standing near the middle of the table facing at the wall.
Don't seem rushed.
While this may technically be verbal communication, you don't want to seem rushed. If you are running around and seem excited, out of breath, etc., don't ask customers how their meal or their experience is going.
Look friendly.
You want to look friendly and smile while you are asking customers how their experience is going so far. If you look upset, bored, intimidating, etc., you are a lot less likely to get honest feedback.
Say it sincerely.
Your tone of voice should suggest that you are interested in the customer's feedback and want them to enjoy the experience. You don't want to seem like you are being forced to do it.
If you can't do it right, don't do it.
If you are having an off day, ask someone else to ask. You want to only ask if you are feeling your best.
What does your non-verbal communication suggest about you?
Photo courtesy of jaroslavd.