Responding to the Good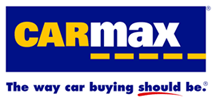 I talk a lot about how companies should monitor the blogosphere for mentions of their names – good and bad (if they don't already). I was having a conversation with a public relations manager from CarMax (interview here) before the holidays and he told me about how he responds to bloggers.
He responds to bloggers that write positive and negative things about CarMax. If they write about how they were unhappy, he makes sure they know how to get in touch with customer service and offers any help that he can provide. If they're happy, he sends them a thank you note and a little gift such as a tire pressure gauge or a road atlas.
This PR manager has the right idea. It is important to thank the people who write positive things about you as well. Many companies focus solely on the bad reviews. This is of course a good thing to do, but it is also worth spending time and effort thanking those who write good things about your company and service. If they feel appreciated, the chances of those people continuing to write good things goes way up.
It is always a good idea to thank someone when they do something nice for you. The exact same principle / etiquette guideline that your mother taught you as a child applies to business and public relations. If someone writes something nice about your company, thank them. They will appreciate it. All you have to do is post or email something simple like:
Hi John,

I saw your post about Company XYZ today and wanted to thank you for the kind words. We try our best and it makes everyone happy to see customers write about exceptional, positive experiences they've had with us.

Thank you again for thinking and writing about us. Feel free to call on me if you need any assistance in the future.

Best wishes,

Bob Bobsen
Public Relations
Company XYZ
212-123-4567
Some people may disagree about giving the small gift. I'm personally okay with it, but can see how some people might think it's a bribe. As cliche as it sounds, it's the thought that counts with this sort of situation. As long as you post the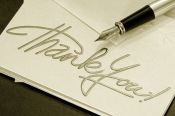 thank you comment or send the thank you email, then you've done plenty. Sending the gift is optional – feel free to do it if you want to. It probably won't hurt and it is certainly a nice gesture.
To take it a step further (in a good way), include a hand written thank you note with that little gift. The note can just be a nice little piece of paper with the logo on it (your company has a branded notepad somewhere, right?):
Thanks again for the nice words about Company XYZ!

– Bob
What are your thoughts on thanking people for writing nice things about your company? What about gift giving?