Show off your positive feedback.
I've written about testimonials before, but I did want to add to that discussion and point out a great page that shows off some testimonials and quick feedback. That page is the support page at 37signals and it is very well done. Just look at the screenshot below: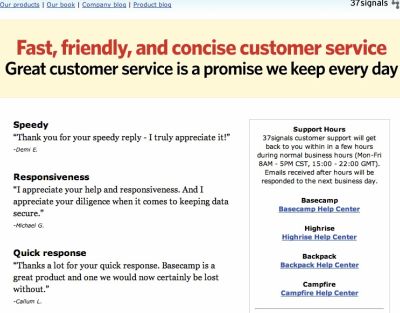 They have a broad mission statement (great customer service is a promise we keep every day), list some critical information (URLs, support hours, etc.) and then have a series of testimonials and quotes from what I imagine are customer emails. The testimonials are simple: they are short quotes from emails / tickets and the header is just emphasizing one or two words from the actual body of the email. The person who submits the email is credited with their first name and initial of their last name.
A simple testimonials and support overview page like this is well worth the time it takes to create. It can instill customer confidence and can be a morale booster to your support department. Chances are, a well run support department could get 10-20 comments like this in a day or two and adding them to a page would be simple. It's easy, efficient, and effective. With customer service and business in general, it's hard to ask for anything better than that.