Top 10 Call Centre Website and Upgrade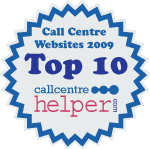 I got an email earlier this week telling me that Service Untitled had been recognized as one of the top 10 call center websites of 2009. Service Untitled was listed as number one on the list and I'm honored to see that Service Untitled was included and referred to as one of the author's "real finds of the year".
I'm also glad to see that my friend Tom Vander Well from QAQNA made the list, along with eight other interesting sites and blogs.
In other news, I upgraded Service Untitled to the latest version of WordPress (2.8) earlier today. Everything appears to be working fine, but if you notice any problems or oddities, please send me a quick email and let me know.
If you're running WordPress and haven't upgraded yet, please take the 10 seconds required to do so and get your blog upgraded. There are some nice improvements in 2.8 (new widget interface, speed improvements, one click themes, etc.) that certainly make it a worthy upgrade.