Use Radios to Improve Customer Service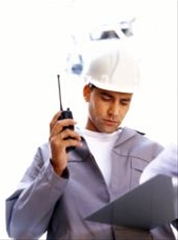 I talk a lot (probably mostly) about providing customer service online and over the phone. I don't talk about customer service in stores, restaurants, etc. because I don't have that much experience working with those types of companies.
However, I was reading something the other day that mentioned radios / walkie-talkies. Did you ever think about how they could help customer service?
In large physical locations, it can be hard to find and contact your colleagues. I personally think that PA systems are tacky and don't add to the customer experience. Cellphones are okay, but they can be a bit flakey when inside large buildings. The best way? With walkie-talkies!
If you pay attention, you will see that more and more stores are "arming" their employees with some sort of communications device they can use to get in touch with their colleagues around the store. They make a lot of sense and can be useful.
Most offices (hopefully) have phones with extensions to contact other employees. These are used a lot and are very popular. The whole point is to have some sort of communication system that can be used to quickly contact other employees. In virtual offices, it could be IM or Skype.
A few suggestions for stores or restaurants that want to implement employee-to-employee radios:
High quality.
Get high enough quality radios and systems so employees don't have to scream at each other to hear. This distraction will bother customers more than it will help them.
No earpieces.
As much as I love headsets and think they can be useful for some things, don't buy headsets. I think they look a bit dorky when they are worn all the time and if you are working with customers face-to-face, probably uncalled for. Get a radio you can pick up and people will know what it is.
Use them.
You invest in these radios for a reason. Use them to help track down customer issues, look for customers that may be having trouble, etc. It is important to use whatever tools are available to you to improve the customer service experience.
Be courteous.
As always, you need to be courteous with your new gadgets. Have them turned down if you're talking to customers, don't yell at employees in front of customers, those types of things. It is crucial to be courteous at all times – especially when you are around customers.