Work on customer loyalty to build business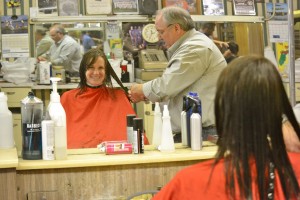 There's more to sustaining and building a business than just providing products or services. Our competitors are always within inches of grabbing our customers and clients with a better presentation, a better product, or a better service. It's not about just selling; it's about presenting our best employees and our sales teams who possess not only positive attitudes, but who are attentive listeners and problem solvers.
So how do we build and maintain customer loyalty? We all know to keep accurate records of our clients' purchases, their history, and their buying trends, but making improvements and constantly staying in touch can make a profound impression on any client. In the age of advanced media choices, use email, blogging, and twitter to a company's advantage. Even negative feedback can help to bring about customer loyalty. When a product fails or a service isn't to a customer's satisfaction, a company's reputation is out there "laying on the line." Use negative experiences to revamp procedures, update products, improve services, and help a customer find the best and most efficient solution to their complaint. Those are the customers you will have dazzled with your customer commitment, and in essence these are the very same people who will be your walking billboards for loyalty and attracting new customers.
Always strive to improve your customers' lives; in other words "own" the customer. Here are some suggestions to build customer loyalty:
Always make sure customers receive prompt responses to their complaints or negative comments. Make sure the mistake isn't repeated.
Survey customer satisfaction and encourage feedback by surveys, polls, emails, and personal correspondence if needed.
Offer reward programs for loyal customers. Businesses can offer special preview days, exclusive discounts, or prizes appropriate to the product or service offered.
Provide genuinely useful information to your buyers and clients. Newsletters, timely advice on update of products, as well as information about recalls and discounts will keep customers focused and satisfied that the organization they deal with really cares about them and is just not out there to make a sale.
Never take a client for granted and how a business acts before the sale, during the sale, and after the sale are all indicators how a client or customer will feel when the time comes to use your business again.
Make customer feedback a priority. Show how improvements have been made. Accept positive feedback graciously, change negative feedback to show improvements, and constantly watch out for new trends to make every customer confident that you are there for them.
Reward key employees and staff who have gone above and beyond for their customers. Use financial rewards, promotions, prizes, and peer recognition to congratulate the best and inspire those who have yet to achieve their full potential.
Customer loyalty may at times seem like a daunting task, but in an economy where only the strongest and the best survive, shouldn't we all remember to place our customers at the very top of the list?